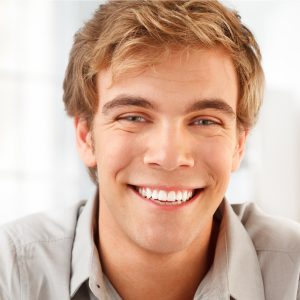 Maybe you've always wanted a dazzling, movie star smile. Or maybe your teeth have just grown dull with the passage of time. Whatever the reason might be, you're one of millions of Americans who want to brighten their smiles with teeth whitening. At Hammond Aesthetic & General Dentistry in Provo, we can help!
There are already plenty of options. Take a stroll down the dental care aisle at the store, and you'll see an almost bewildering selection of teeth whitening products: everything from toothpaste to strips to bleaching trays.
Most of these products can be moderately effective. But whitening toothpaste generally takes only the surface stains off of your teeth, and you may be disappointed with the end result. Whitening strips are more effective; they rely on hydrogen peroxide to remove stains. Bleaching trays are also good. But none of them can match professional teeth whitening.
We offer highly effective in-office teeth whitening that can transform your smile in a single visit. You have the option of GLO! Teeth Whitening, or the Boost Whitening System.
At Hammond Aesthetic & General Dentistry in Provo, teeth whitening is just one of our cosmetic dentistry porcedures. People from American Fork and Lehi come to our practice for their dream smiles! Call for an appointment today!
Contact Hammond Aesthetic & General Dentistry:
Location (Tap to open in Google Maps):