Periodontal Treatment in Provo UT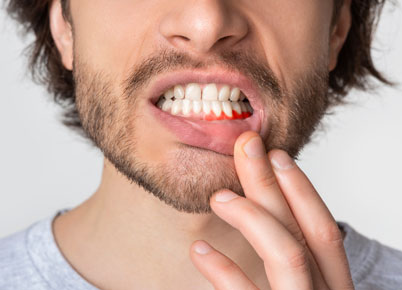 Gum disease, also known as Periodontitis, is a serious infection that occurs in the tissue of your gums. When left untreated, gum disease can lead to bone loss and eventually tooth loss as well. Gum disease is common in adults and is usually treated simply by cleaning underneath the gums and around the teeth to avoid spreading to the bone. Early warning signs of gum disease may include overly sensitive gums or gums that are swollen or bleeding. Dr. Chris Hammond, DMD, and his expert staff can diagnose and treat your periodontal concerns at our dentist office in Provo, UT.
Contact us today to schedule your appointment.
Gum Disease Causes
Gum disease can be contracted by any patient, regardless of lifestyle and genetics. Patients who use tobacco products or prescription medications are more likely to suffer from gum disease, as are patients who have plaque buildup and tooth decay from dental neglect. Patients who are pregnant, have diabetes, or have a family history of gum disease may also be concerned about their risk of periodontal disease.
Gum Disease Symptoms
There are a variety of periodontal disease symptoms that you and your dentist should pay close attention to if you are concerned that you may be suffering from periodontitis. Some of those symptoms include:
Gums that bleed easily when flossing or brushing your teeth
Gums that are red, swollen, or overly sensitive
Chronic bad breath
Loose teeth
Sensitive teeth
Receding gums
If you are experiencing any of the above symptoms, please contact your periodontal dentist in Provo, UT today.
Gum Disease Treatment & Procedure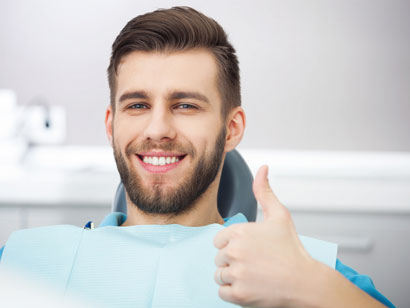 There are several possible treatment options for gum disease that your dentist will discuss with you depending on your individual needs. Dr. Chris Hammond and his expert team will diagnose your gum disease and assess the level of severity to determine treatment. The primary goal of gum disease treatment is always to clean and remove the infection from the pockets around your teeth and beneath your gums. In more severe cases, your dentist may recommend scaling, root planning, or gum rejuvenation surgery.
Contact Us
Here at Hammond Aesthetic & General Dentistry, Dr. Chris A. Hammond and his expert team can diagnose and treat your gum disease and prevent further oral health issues in the future. If you or someone you know is experiencing symptoms of gum disease, contact your dentist in Provo, Utah today.