Tooth Implant Dentistry In Provo
Dental Implants Can Fill the Gap in Your Smile
Dental implants may be the solution you are seeking to fill the gaps in your smile. Tooth loss because of gum disease, root canal failure, decay, trauma, or wear and tear is quite common. In fact, studies show that 69% of adults, ages 35-44, have lost at least one permanent tooth.
Not only can tooth gaps affect your social and professional confidence and opportunities, but they can also lead to bone loss, jaw joint problems, and face shape alteration. A dental implant can serve as a strong, enduring support for a replacement tooth, bridge, or dentures.
Source:American Academy of Cosmetic Dentistry
Using the latest dental implant technology and proven procedures, our Provo implant dentistry office is committed to helping you restore the beautiful smile you once had.
Dr. Hammond will personally review your specific situation and work with you to develop the right treatment plan for you. His surgical team will place the implant and Dr. Hammond will artistically and skillfully complete your beautiful smile with the resulting crown, bridge or denture.
Dental implants require strong bone structure in order to support the dental implant; however, additional types of dental implants are now available for unique cases. After we assess your specific situation in Provo, we can determine together the best option for you.
What Are Dental Implants?
As titanium dental implants are becoming such a popular dental treatment, more people are asking their dentists "What are dental implants?" and we would like to answer that question for Utah County residents.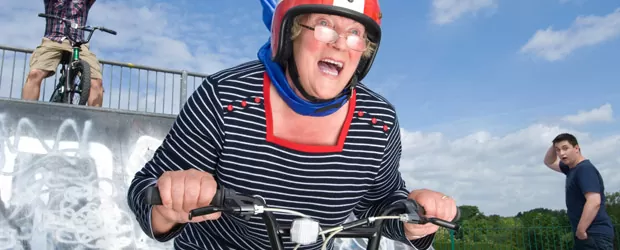 An increasing number of people are looking into the procedure to learn more and discover if titanium dental implants or mini implants are an option for them. Consider this a quick reference guide to help you understand the common dental implant terms and a high-level understanding of the tooth implant procedure.

A dental implant is a small titanium "post" that is placed in the stead of a natural tooth root when the tooth is missing or damaged. This titanium dental implant then fuses with the supportive jaw bone tissues to form a permanent and durable platform on which a dental crown (artificial tooth) can be attached.
Titanium dental implants can help reduce bone loss, provide a permanent tooth that can last just as long as you and help you live life as if you never lost or damaged your natural tooth at all.
Benefits of Tooth Implants
Our Utah County patients frequently turn to tooth implants as the ideal solution for missing or damaged teeth. Implant-supported dentures are also becoming extremely popular due to the permanent attachment of the denture to the tooth implants and the ease of maintenance, lack of embarrassment and durable nature of the treatment.
Recent technological advancements in implant dentistry have made it possible for Hammond Aesthetic & General Dentistry to offer the best quality tooth implants and tooth implant-supported dentures available in Provo at an affordable price. Call today to set up a visit and find out first hand what makes dental implants (tooth implants) so great.
Below are common benefits our patients experience from tooth implant dentistry:
COMFORTABLE – Dental implants can feel and function just like natural, healthy teeth. You may love just how often you forget that you even have tooth implants.
HEALTHY LIFESTYLE – More traditional dental solutions for damaged or missing teeth may leave a little to be desired as far as long-term health benefits. Dental implants will help you maintain your oral health in the years to come. Implant supported dentures are especially beloved by patients for health reasons
NATURAL LOOKING – Most people, if not all, will not even be able to tell that your tooth implants aren't your natural teeth. We pride ourselves on dental artistry, so they will not just look like natural teeth, your tooth implants will look like BEAUTIFUL natural teeth.
PERMANENT SOLUTION – Dental implants are wonderfully durable and can last a lifetime. We use the finest tooth implant materials that allow your smile to be just as long-lived as you.
PRESERVING YOUTH – Traditional dentures (removing all tooth roots) cause the facial structure to start sagging. Implant support dentures help limit this effect.
STRONG FOUNDATION – Whether you're interested in an individual missing tooth replacement, a partial denture or a full set of dentures, dental implants provide a sturdy foundation for your tooth/teeth replacement(s).
Dental Implant Options
As a part of cosmetic and implant dentistry here in Utah County, dental implants can be used in connection with several tooth replacement options:
Replacement Tooth or Crown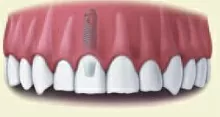 The most common and recommended solution for a missing tooth is a dental implant topped with a crown or replacement tooth. This is the most durable option because the anchored replacement tooth can function and support heavier foods like a normal tooth can. This new tooth is made of porcelain to closely resemble your original tooth.
Bridges
For multiple missing teeth, you may opt for an implant-supported bridge. After one or more dental implants are positioned, they serve as a solid support to the bridge fastened on top.
Implant-supported bridges are superior to fixed bridges because, unlike fixed bridges, they do not rely on adjacent teeth for support, which can compromise the health of the surrounding teeth.
Dentures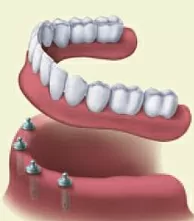 The support of multiple dental implants reduces gum irritation, bone loss, and slipping — problems common to denture wear. Instead of sitting directly on the gums, dentures can clip into the dental implants. If you need a full set of teeth or are missing multiple teeth in the same area, this may be the solution for you.
Mini Implants
Mini implants are practically the same thing as normal titanium dental implants except mini implants have a smaller diameter.
These smaller diameter mini implants are beneficial in various circumstances that either allow for or call for a narrower post. Mini implants offer a shorter healing period and can provide a more comfortable fit in tight places. Mini implants may or may not be needed in your treatment.
Titanium Dental Implants
The teeth implants we use are exclusively a titanium alloy. Titanium dental implants offer tremendous benefits, including:

OSSEOINTEGRATION – Titanium dental implants literally "fuse" with the jawbone tissues and become as strong or stronger than the natural tooth roots they are replacing. This is a unique property of titanium.
DURABILITY – Titanium dental implants are exceedingly resistant to wear and corrosion. They will stand up admirably to time and wear.
STRENGTH – Titanium is called "God's metal" for a reason — it has the highest strength to weight ratio of ANY metal. Titanium dental implants and mini implants are therefore are exceptionally strong and light.
"I've had lots of dental work, at lots of dentists, over many years. There's only two dentists in the US that I will go to anymore for any dental services and Dr Hammond is one of those. In the last few years I've had an implant break that needed to be repaired, had crowns replaced, and consistent teeth cleaning. Dr Hammond has done all of that work, and is an exceptionally skilled dentist. He and his staff just want to do what's right, to make your teeth last for the long term. The staff are great, know what they're doing, and make you feel very comfortable. Go there and your well-being will be looked after better than anybody else."
---
The Dental Implant Process
The dental implant process is generally the same for bridges or dentures. However, more than one dental implant may be necessary for multiple missing teeth, and the process may take a little longer to fit the bridge or dentures.
The teeth implants procedure consists of four main steps. Though the steps are simplified here to give you a high-level understanding of the process, we would be happy to discuss the details of the tooth implant procedure with you at any time here in Provo.
1. Assessment. During an initial consultation for a teeth implants procedure, we will assess and review your situation and will partner with you to determine if dental implants are the best solution for you.
This initial assessment includes x-rays and dental impressions, enabling us to identify the best teeth implants location as well as providing the model for the most natural-looking and functioning tooth for your new and enhanced smile.
2. Placement.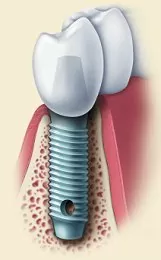 We carefully and comfortably place the titanium alloy implant into your jawbone. The purpose of the tooth implant procedure is to replace the natural tooth roots. Depending on your treatment plan, multiple teeth implants may be placed during the same visit.
3. Healing time. It takes three to six months for the dental implant to completely fuse with the jawbone in a process called osseointegration. Like a natural tooth root, this bond with the bone will create the needed support for your new tooth to function normally. The result is an exceedingly strong and durable platform for your new dental crowns, dental bridges or dentures

4. Replacement tooth/teeth. When the initial implant fusion process of the teeth implants procedure is complete, the new dental crown is ready to be placed. An abutment is first added to the implant which the new dental crown is then attached to. We pride ourselves on dental artistry and make sure that your new crown (or bridge or denture) is beautiful and natural-looking. We also pride ourselves on our technical knowledge of implant dentistry and ensure your new tooth feels and functions like a natural tooth so you can enjoy laughing, eating and living in general normally.
Implant Dentistry FAQs
We Are Restoring Confident Smiles in Utah County!
To see how dental implants can help restore your confident smile, contact our Provo implant dentistry office here to schedule an initial consultation if you are in the Utah County area, from Lehi and Alpine to Orem!
Related Content