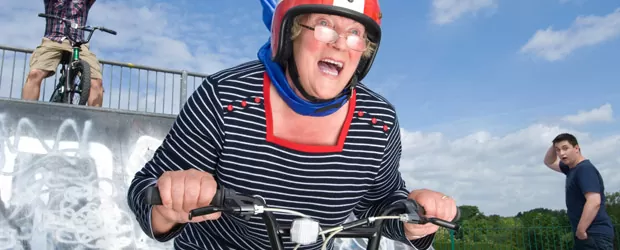 Tooth Implant Dentistry In Provo
Dental Implants Can Fill the Gap in Your Smile
Dental implants may be the solution you are seeking to fill the gaps in your smile. Tooth loss because of gum disease, root canal failure, decay, trauma, or wear and tear is quite common. In fact, studies show that 69% of adults, ages 35-44, have lost at least one permanent tooth. Not only can tooth gaps affect your social and professional confidence and opportunities, but they can also lead to bone loss, jaw joint problems, and face shape alteration. A dental implant can serve as a strong, enduring support for an artificial tooth, bridge, or dentures.
Source:http://www.aacd.com/index.php?module=cms&page=10
Using the latest dental implant technology and proven procedures, we are committed at our
Provo implant dentistry
office to help you restore the beautiful smile you once had.
Dental implants require strong bone structure in order to support the dental implant; however, additional types of dental implants are now available for unique cases. After we assess your specific situation in Provo, we can determine together the best option for you. We know you may have a lot of questions about dental implants, which is why we also have a website devoted to explaining implants in greater detail.
Why Choose Dental Implants?
Successful. Traditional dental implants are statistically the most effective dental procedure, with a success rate between 90 and 98% when accompanied by good oral hygiene.
Attractive. Not only do dental implants look incredibly natural, but they also help prevent the weakening of facial bone structure and altered appearance often caused by missing teeth.
Versatile. Dental implants serve as a foundational anchor for a crown, bridge, or dentures, thereby providing a durable base for whatever prosthetic solution you choose to restore your smile.
Permanent. Unlike other treatments such as traditional dental crowns and bridges, which often need multiple replacements, implant dentistry is designed to last a lifetime without any decay to the dental implant.
Durable. Because the dental implant is well grounded in the jawbone, you can feel comfortable chewing the same foods you would with your natural teeth. While other treatments like fixed bridges depend on neighboring teeth for support, dental implants provide a solid anchor for the artificial tooth, not affecting your natural teeth.
Natural. Dental implants feel, look, and function surprisingly like a normal tooth. After the completed process, there is no need to worry about eating only soft foods.
Comfortable. Dental implants reduce gum irritation and slipping common to dentures, since the dentures no longer rest directly on the gums.
Actual Dental Implant Case
Dr. Chris Hammond was once interviewed by Randy Alvarez, one of the cases they presented was of a man who needed dental implants and porcelain veneers as part of a full mouth restoration. The change in his appearance is dramatic.
Dental Implant Options
As a part of cosmetic and implant dentistry here in Utah County, dental implants can be used in connection with several tooth replacement options:
Artificial Tooth or Crown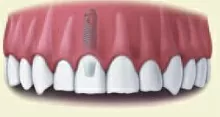 The most common and recommended solution for a missing tooth is a dental implant topped with a crown or artificial tooth. This is the most durable option since the anchored artificial tooth can function and support heavier foods like a normal tooth can. This artificial tooth is made of porcelain to closely resemble your original tooth.
Bridges
For multiple missing teeth, you may opt for an implant-supported bridge. After one or more dental implants are positioned, they serve as a solid support to the bridge fastened on top. Implant-supported bridges are superior to fixed bridges because they do not rely on adjacent teeth for support, which can compromise the health of the surrounding teeth.
Dentures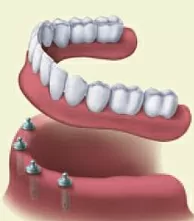 The support of multiple dental implants reduces gum irritation, bone loss, and slipping—problems common to denture wear. Instead of sitting directly on the gums, dentures can clip into the dental implants. If you need a full set of teeth or are missing multiple teeth in the same area, this may be the solution for you.
Source: http://www.aaoms.org/dental_implants.php
The Dental Implant Process
The dental implant process is generally the same for bridges or dentures. However, more than one dental implant may be necessary for multiple missing teeth, and the process may take a little longer to fit the bridge or dentures.
1. Assessment. After assessing your situation at an initial implant dentistry consultation and determining that dental implants are the best way to enhance your smile, we take x-rays and impressions of your mouth to help us determine the proposed dental implant location and to fashion a new tooth for you.
2. Dental implant.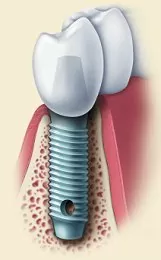 A titanium dental implant is carefully (and painlessly) placed into the jawbone. This dental implant replaces the missing natural tooth root. For more than one missing tooth, multiple dental implants may be needed.
3. Healing time. It takes three to six months for the dental implant to completely fuse with the jawbone in a process called osseointegration. Like a natural tooth root, this bond with the bone will create the needed support for your artificial tooth to function normally. During this time the gums grow and shape around a temporary crown, bridge, or dentures.
4. Artificial tooth. After the integration takes place, we add an abutment into the dental implant—a small metal piece that holds the new crown in place. The crown is custom-shaped to blend in with your surrounding teeth.
To see how dental implants can help restore your confident smile, contact our Provo implant dentistry office here to schedule an initial consultation if you are in the Utah County area, from Lehi and Alpine to Orem!
For more information about our implants, feel free to visit our implant dentistry website!