Invisible Braces Offered Here in Provo
Having straight beautiful teeth provides many people a lot of satisfaction. In fact, it is said people often perceive those with straight, white teeth as happier and more successful. At Hammond Aesthetic & General Dentistry near Orem, we want our patients to be able to have the straight teeth, and beautiful perfect smiles they desire!
Are you looking for a straighter and more self-assured smile unaccompanied by the wires and brackets of traditional braces? Invisalign clear braces offer an alternate straightening solution using a series of comfortable, clear, and removable aligners. This makes it so our patients who choose Invisalign as their way to straight teeth, can get straighter teeth without the need for traditional braces. As an authorized Invisalign® provider in Utah County, we offer you this effective alignment option that provides patients with total comfort.
Invisalign's clear braces system is convenient because the aligner trays are removable, it is comfortable because each set of aligners are custom designed, and they look great because they are virtually invisible.
Over a half-million smiles across the nation reveal the success of revolutionary Invisalign invisible braces treatment, and we are happy to offer this in our Provo office as well.
Invisalign Fits Your Lifestyle
Invisalign clear braces have been a wonderful way for our patients to get straighter teeth without the need for traditional clear braces and have many benefits. Some of the benefits of Invisalign clear braces include:
Time – Invisalign in most situations can help you have the perfect smile you've always wanted faster than traditional braces. Most traditional braces take approximately two years to complete treatment; but with Invisalign, you can have a straighter, more beautiful smile in as little as nine months to a year. Some of our Utah County patients take even less time than nine months to a year because of the technology used by Invisalign clear braces for straightening.
Discreetness – No need to worry about Invisalign invisible braces drawing attention. The transparency of the aligners makes their presence nearly invisible to those around you.
Versatility – Invisalign clear braces adapt to your busy lifestyle and allow for continued oral hygiene. You can remove your aligners when eating, drinking, flossing, brushing, or periodically for a special event.
Comfort – Invisalign aligner trays are custom designed for each patient, so they fit and work perfectly. Invisalign trays are designed with your mouth in mind, and are created using modern dental technology so that they are comfortable and effective. Smooth edges ensure that Invisalign clear braces won't snag the sides of your mouth or gums. You can wear your aligners without the hassle of sores or irritation.
Appearance – Invisalign is a clear braces system, and is not noticeable to most people. The clear aligners used by Invisalign are made of a durable, thin plastic which fits your teeth closely and comfortably, ensuring that those around you don't notice them. Compared to traditional braces, Invisalign is aesthetically pleasing and can help you have your perfect smile without social anxiety.
Convenience – Invisalign is a convenient way to straighten your teeth because the clear aligner trays, unlike traditional braces, are removable. What this can mean for you is that if you ever feel like you want your Invisalign trays out for a social function, it is as simple as taking your aligners out and putting them back in when the occasion is over. Having removable trays also means that you can take care of your teeth like you usually do, helping to ensure that your oral health stays great. It also means that you can continue to eat the foods that you enjoy, without having to worry about food getting stuck in brackets and wires!
Efficiency – We use impressions of your mouth to map out the progression of your tooth movements, as well as to design custom Invisalign aligners that shift your teeth to calculated locations. You can see the projected results beforehand, and the process takes less time than traditional braces. An average alignment process using Invisalign invisible braces takes under a year, depending on the case.
Invisalign: Improve Your Teeth, Improve Your Health
Used in connection with cosmetic dentistry at our Provo practice, Invisalign clear braces can prepare your teeth for additional treatments as well as enhance oral health by resolving several common issues, such as: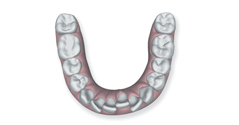 Overly crowded teeth. Because of a lack of space, the teeth crowd each other out, twisting the teeth.
Widely spaced teeth: Abnormal jaw growth or missing teeth create unsightly gaps and spaces between teeth.
Crossbite. Misalignment of upper and lower jaws cause one or more upper teeth to bite inside the lower teeth.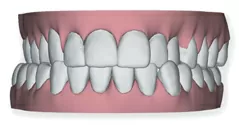 Overbite. Genetics, bad oral hygiene, or bone overgrowth cause the upper front teeth to extend far over the lower teeth.
Underbite. The lower teeth extend past the upper front teeth due to missing upper teeth, the undergrowth of the upper jaw, or the overgrowth of the lower jaw.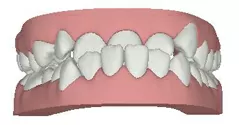 Without treatment such as invisible braces, these problems commonly lead to gum disease, tooth wear, bone loss, dental decay, the prevention of normal tooth function, and painful jaw and joint issues.
Invisible Braces Step-by-Step
1. Assessment.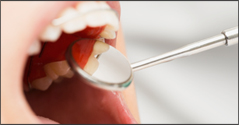 By contacting our Provo cosmetic dentistry office in Utah County, you can schedule an initial consultation, where we will assess your concerns, goals, and situation to determine together whether Invisalign clear braces are best suited for you. At this visit we will take digital pictures and x-rays of your mouth to help us plan the step-by-step progression towards your desired new smile.
2. Planning process. Using the latest technology and the images taken at your consultation, we calculate the gradual shift of your teeth in stages. We then custom design a series of clear aligners, each fashioned to shift your teeth to a computed location in the next stage of the plan.
3. Invisalign treatment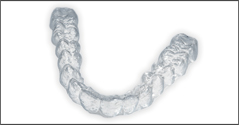 . At each visit you will receive a new set of aligners that you will wear for approximately two weeks. The more regularly you wear your aligners, the faster you will see your smile transform. While every patient's situation is unique, most people generally need 20-30 sets of aligners.
Invisalign for Teens
In the past, traditional braces were almost the only option for teens to receive the straight teeth that they and their parents desired. However, now there is another clear braces option called Invisalign Teen and we offer it right here in Provo!
Invisalign Teen makes it so teenagers can get the straight teeth they desire using a convenient clear braces system. This straightening system has a number of advantages, including:
Appearance – Unlike traditional braces, Invisalign Teen clear braces doesn't use metal wires or brackets to help get straight teeth. Instead, Invisalign Teen uses a special clear, smooth plastic that is practically invisible. This means that you can smile confidently and not worry about having a mouth full of brackets and wires and continue to enjoy your social life!
Eating – Traditional braces can severely limit what kinds of food you can eat. You may have known someone with metal braces who cannot eat certain foods, which can be discouraging. Invisalign Teen uses clear plastic aligner trays to straighten your teeth that are removable. This means you can continue to eat the foods you love without having to worry about harming your teeth straightening system.
Hygiene – Because Invisalign Teen is removable, it means that you can continue to take care of your teeth like your normally would. Traditional braces require a lot of special care, and can contribute to other hygiene problems. With Invisalign Teen, it is simple as removing your aligner trays, and then taking care of your teeth like you normally should!
Hobbies – Traditional braces can really hinder your ability to be able to perform your best in some types of hobbies, such as playing a musical instrument or even playing sports. With Invisalign Teen you don't have to worry about how it will effect your hobbies, because Invisalign Teen does not use metal brackets or wires that traditionally can cause problems with these hobbies!
Whether you are a teen looking to have straight teeth, or a concerned parent who wants the best for your teen's smile, Invisalign Teen can be a wonderful option to help youth achieve a straighter, more beautiful smile.
Is Invisalign for Me?
If you would like a fantastic and effective way to get straight teeth, correct widely spaced teeth, or help resolve overcrowded teeth issues in Provo, Invisalign could be the system for you! Invisalign clear braces can help solve a number of different issues that can stop you from having the smile of your dreams.
In depth, these are some of the issues that Invisalign clear braces can help with:
Teeth That Are Overcrowded – Having overcrowded teeth can make it difficult to clean your teeth, and increase your chances of developing gum disease. Invisalign braces for adults can help resolve teeth overcrowding issues and help you have straight teeth and a beautiful smile.
Teeth With Wide Spacing – If you have gaps in between your teeth caused by too much space on your jaw, Invisalign is a great way to help resolve this. Using Invisalign's clear braces aligner trays, your smile can be gradually reshaped to look and feel better than ever before.
Overbites – An overbite is when your upper teeth overlap your lower teeth. Overbites can cause a number of issues, such as discomfort, gum problems, and uneven wear and tear on your teeth. This type of problem can even lead to problems with your jaw joint as well. Invisalign can be used to help correct overbite issues successfully and help you have the straight teeth you desire.
Crossbites – A crossbite is when your upper and lower jaw do not line up properly. If left untreated it can wear your teeth down unevenly and cause other issues as well, such as gum disease and bone loss. If you have a crossbite, Invisalign braces for adults are a great option to help you fix your crossbite and straighten your teeth.
Underbites – An underbite is when your lower teeth stick out further than your upper teeth, and most often is caused by undergrowth of the upper jaw or overgrowth of the lower jaw. This, like a lot of bite issues, can cause uneven and excessive wear and tear. Invisalign clear braces are a fantastic way to help treat underbites!
Crooked Teeth – If you have crooked teeth, Invisalign can help you get the straight teeth you've always wanted. Invisalign's clear straightening trays provide braces for adults without the hassle of traditional braces.
Invisalign FAQs
What is the cost of Invisalign?
Many people interested in adult orthodontics have concerns that the cost of Invisalign may be expensive. We are happy to discuss the cost of Invisalign during our consultation with you, so that we can make sure this treatment is a good fit for you. You may be surprised at just how affordable Invisalign can be!
Is Invisalign as convenient and effective as it seems?
Invisalign invisible braces truly are an effective and convenient way to straighten your teeth. Invisalign looks great (being an invisible braces system, you can hardly see it at all!), takes less time to straighten teeth, and causes less discomfort than traditional braces do.
Am I able to change from using traditional braces to using Invisalign invisible braces?
Some patients have been able to make the transition from traditional braces to Invisalign invisible braces. If you are interested in making that transition, we can help you determine if this will work for you. Give us a call today, and we can help you get a consultation scheduled!
How long does Invisalign take?
We understand that if you are an adult, that the sooner adult orthodontics treatment is complete, the better. Invisalign is able to help straighten teeth in most cases in approximately nine months to a year!
How many patients have used Invisalign?
In the United States alone, more than a million people have successfully used the Invisalign system to help achieve straighter, more beautiful smiles. Invisalign has become one of the most popular cosmetic dental and adult orthodontics procedures available!
How do I get started with Invisalign?
Dr. Chris Hammond is experienced and highly trained in Invisalign treatment. If you are interested in Invisalign, you will want to get in touch with us to setup a consultation. Our Provo team will walk you through the Invisalign system, and answer your questions about this fantastic treatment so that we can make sure Invisalign is the treatment for you. We want you to be informed, so that you can make the best choices about the future of your beautiful smile!
Treat Yourself to Invisalign
By scheduling an initial consultation at our Provo cosmetic dentistry office, we can determine if Invisalign clear braces are the best solution for enhancing your smile. Contact us here or simply fill out the simple form on this page and we will contact you. Give yourself the gift of a beautiful smile with Invisalign invisible braces. Visit Hammond Aesthetic & General Dentistry if you are in Utah County, from Lehi to Orem!